Katarina Swahnberg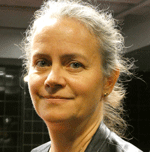 Titel: Professor i hälsovetenskap och global hälsa
Lärosäte: Linnéuniversitetet
Institution: Institutionen för hälso- och vårdvetenskap
E-post: katarina.swahnberg@lnu.se
Presentation
Katarina Swahnberg is a Registered Nurse educated at the Red Cross Nursing School, Stockholm. She has a BSc in International Health Care, and a BSc and an MSc in Public Health.
She has been employed as RN at departments for infectious diseases, tropical medicine and HIV/AIDS at Roslagstulls Hospital in Stockholm, Rigshospitalet in Copenhagen and Fylkessykehuset in Lillehammer. She has also worked with the Missionaries of Charity in Calcutta, India.
After having worked internationally as a clinical nurse, she took a master's degree in studies of public health in 1999. During these studies she developed a research interest in gender based violence, which resulted in a doctoral thesis on the topic in 2003. Building on this thesis, Katarina's research consists mainly of two themes: (1) abuse in health care, and (2) male and female victimisation and ill-health. Both teams have a strong focus on the development of interventions and changing violent practices.
Violence against women is a major global health problem. Katarina is currently involved in an intervention study on violence against pregnant women in Nepal and Sri Lanka. She is also main supervisor for a PhD student from Nepal researching interventions against trafficking.
Publikationer i urval
Chamanie Perera, Dinusha; Lund, Ragnhild; Swahnberg, Katarina; Schei, Berit; Infanti, Jennifer J. 'When helpers hurt': Women's and midwives' stories of health care abuse in the labor rooms of public health care institutions, Colombo district, Sri Lanka. BMC Pregnancy & Childbirth (In press, 2018).
Manuela Colombini, Susannah Mayhew, Ragnhild Lund, Navpreet Singh, Katarina Swahnberg, Jennifer Infanti, Berit Schei, Kumudu Wijewardene. Health sector responses to violence against women in Sri Lanka: A health policy analysis. Accepted in BMC International Health and Human Rights.
Rishal, Poonam; Pun, Kunta Devi; Lukasse, Mirjam; Bhandari, Buna; Joshi, Sunil Kumar; Infanti, Jennifer J.; Swahnberg, Katarina; Schei, Berit. Developing and assessing the effectiveness of a safety-promoting behavior intervention among pregnant women through antenatal care in Nepal: A follow-up study. Submitted to Journal of Interpersonal Violence (November 2017).
Smirthwaite Goldina & Swahnberg Katarina: "Comparing Critical Realism and Situated Knowledges Approaches in Research on (In)equity in Health Care: An Exploration of Their Implications." In Gender, Feminism and Critical Realism: Exchanges, challenges, synergies. Edited by Lena Gunnarsson, Angela Martinez Dy, Michiel van Ingen. Routledge 2018.
Muzrif, Munas M, Perera, Dinusha, Wijewardena, Kumudu, Schei, Berit, Swahnberg, Katarina. Domestic violence: a cross-sectional study among pregnant women in different regions of Sri Lanka. BMJ open, 2018, Vol.8(2). Publikationen i fulltext
Rishal P, Devi Pun K, Darj E, Joshi SK, Bjorngaard JH, Swahnberg K, Schei B, Lukasse M, on behalf of the ADVANCE Study Group. Prevalence and associated factors of domestic violence among pregnant women attending routine antenatal care in Nepal. Scandinavian Journal of Public Health 2017, 1–9. Publikationen i fulltext
Smirthwaite, G, Lundstrom, Swahnberg, K. Doctors Doing Gender at Eye Clinics-Gender Constructions in Relation to Waiting Times for Cataract Extractions in Sweden. NORA - Nordic Journal of Feminist and Gender Research 2017. Publikationen i fulltext
Rask M, Oscarsson M, Neil Ludwig. Swahnberg K. The Swedish translation, cultural adaption and psychometric evaluation of the Functional Assessment for Chronic Illness Therapy – Cervical Dysplasia (FACIT-CD). BMC Womens Health. 2017, Apr 4;17(1):24. Publikationen i fulltext
Rishal P, Joshi SK, Lukasse M, Schei B, Swahnberg K on behalf of ADVANCE study group "They just walk away" – women's perception of being silenced by antenatal health workers: A qualitative study on women survivors of domestic violence in Nepal. Global Health Action, 2016;9(0):1-10. Publikationen i fulltext